By Cheddar
1. Vend-a-goat
The exotic choice for the slaving office Joe with an adventurous palette, Vend-a-goat provided a wholesome, nutritious hit of chewy protein. Although the prototype was a smash success in test markets, the vending machine was shelved after it repeatedly malfunctioned when users attempted to shake goats loose from the coil tension springs. After its failure, creator Ben Dover moved in Birmingham Alabama where he later became a successful lawn jockey.
2. Charmin 600 ply
For the giga pooper in every family, Charmin developed this industrial device in the 1960s . Its 600 feather-ply ultra soft feel was often compared to the sensation of wiping one's behind with the silk of paradise. The product was shelved out of respect to Mr. Whipple, who suffered a massive coronary while attempting to squeeze the fluff pack and simultaneously asphyxiate himself with scented baby wipes to heighten the pleasurable effect.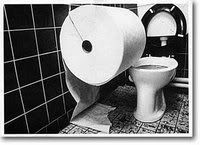 3. The Noodle Fan
- Artfully designed to attach to any chopstick, Ho Ree Shet invented the device to solve the ancient and vexing Chinese "hot noodle" dilemma. Each fan contained a long-lasting battery calibrated to provide a continuous breeze capable of cooling six billion noodles. However, while attempting to shepherd a bevy of noodles to expectant, gaping mouths, 60% of focus group participants were disappointed to find their own severed finger, lip, tongue, or nostril in the bowl, and the noodle fan was relegated to obscurity.
4. The Cowasaki Ninja
- Invented in, you guessed it, Texas, the Cowasaki Ninja was a visual nose-thumbing at Orange County Choppers. Even the advertising slogan developed for the bike—"Chop this!"— was an aggressive affront to the Orange County Chopper fan base. The machine failed when internet commentator and critic Jugz3572 labeled it "gay" on his daily blog. Saddled with the debilitating moniker, the Cowasaki faded into obscurity.
5. "Asswipes for Assholes"
- New York City retailer, Products For Dirty Fannies Inc.'s frankly named offering was doomed upon release. Initially designed for the Middle East as a quick way to clean up after diuretic donkeys, the product struck out following a hard-edged ad campaign in English - a language few members of its intended Arabic audience understood: "Did your Donkey Defecate? Asswipes for Assholes!!" Only one package ever made it onto a shelf.
Know of any other failed products? Have good accompanying pictures? Email them to blogdump@fuse.net !